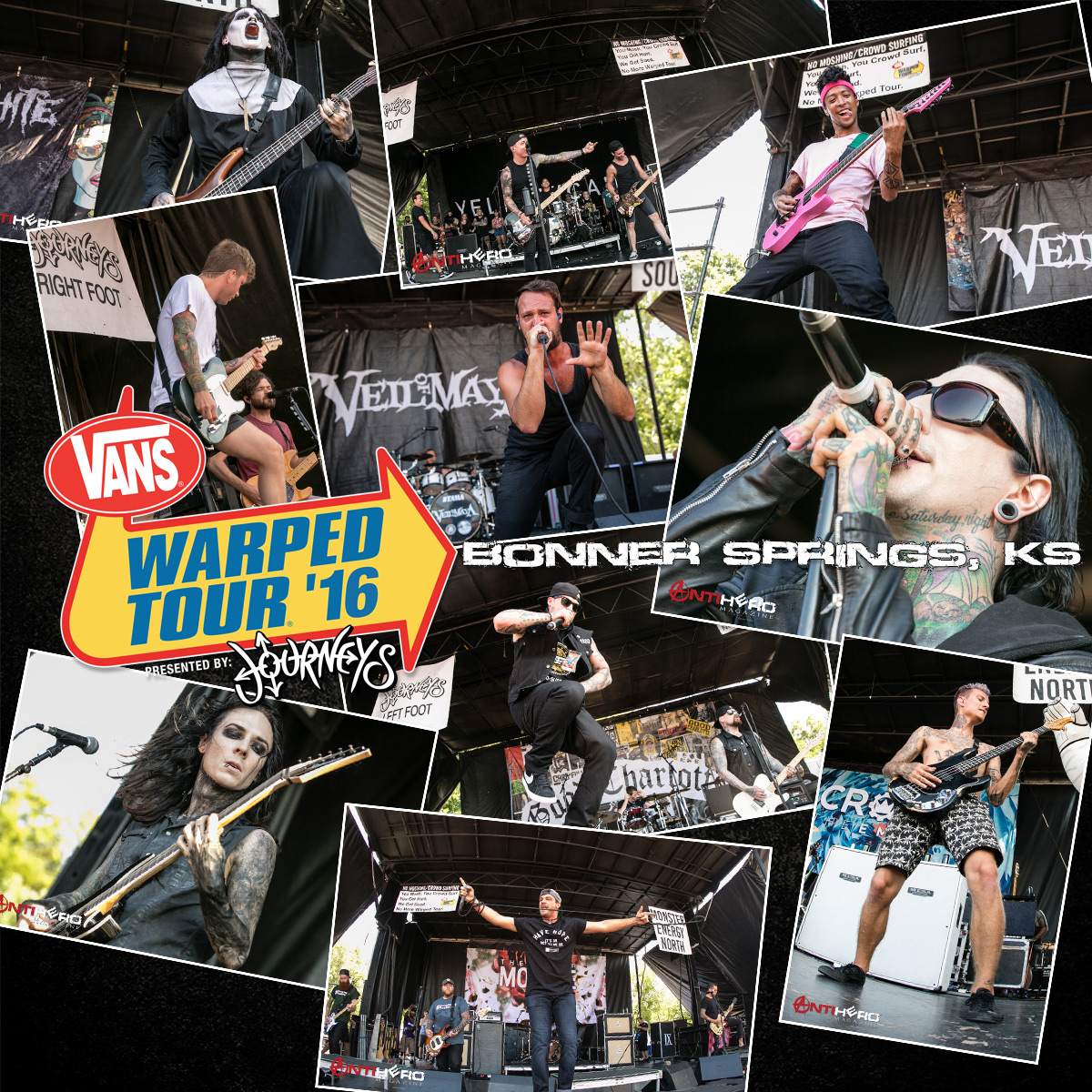 VANS WARPED TOUR
Providence Medical Center Amphitheater – Bonner Springs, Kansas – July 28, 2016
Words by Randy Shatkowski || Photos by Amber Miller
[separator style="line" /] Ahhhh,
Warped Tour
. A day of loud music, excessive heat, inevitable scheduling conflicts (sorry,
Motionless In White
!), and overpriced beverages. It's also a rite of passage for music fans, the most iconic touring festival still in existence. Featuring a mix of new and old pop-punk, metalcore, and various forms of punk, the marathon of 30-minute sets is a way to sample the best of a dozen or more bands in one short day, and the sampling this year at Providence Medical Amphitheater in Bonner Springs, KS, proved uniformly excellent.
[separator style="line" /]
Capsize

– Full Sail Stage

Having adopted an equal mix of hardcore and throwback post-hardcore on their recent release A Reintroduction: The Essence Of All That Surrounds Me, Capsize hit hard for 6 straight songs. They did their best with a small stage, and while the mix was a little muddy, they still energized the maybe 40-50 fans that made the trek over to see them.

Best Moment: The call and response crowd vocal on new single "XX (Sew My Eyes)" almost gave me chills.
[separator style="line" /]
Coldrain

– Monster Energy South Stage

Hailing from Japan, Coldrain are one of the lesser known bands on the tour, but they actually pulled in a decent crowd, and they deserve one. In fact, if this band were from LA or Chicago, they'd probably be one of the biggest names in metalcore. With a perfect mix of soaring but not whiny cleans and spot-on screaming mixed with big, punchy chorus hooks, they are the perfect summer festival band. Keep an eye on them: they could at the very least still be the next We Came As Romans.

Best Moment: Closing track "Gone". Pretty rare for a band to end a festival set with a ballad, but Coldrain nailed it (especially vocalist Masato Hayakawa, whose cleans were downright beautiful, even though he also provides most of the screams), and still kept the energy up even with a slower song.
[separator style="line" /]
Every Time I Die

– Monster Energy North Stage

Every Time I Die are a Warped staple, and they proved why. Sprinkling new songs into the mix ("Glitches" especially was phenomenal live) with old hits and even some deep cuts, they had some issues getting things going early but pulled things together with "Underwater Bimbos From Outer Space," which had the crowd moshing so hard even the people on the barrier got involved. Extra points to guitarist Jordan Buckley, who looked like the only person unaffected by the mid-afternoon heat.

Best Moments: Cramming 11 songs into a 30 minute set (no other band I saw topped 8 all day), Jordan Buckley getting pissed when security wouldn't let him stack the stage monitors into a tower to stand on/jump from.
[separator style="line" /]
Yellowcard

– Journeys Left Foot Stage
A must-see since they announced their pending breakup and no shows on the final tour will come near Kansas City, Yellowcard played the hits (focusing over half the set on breakthrough album Ocean Avenue), and while it sounded good, it also sounded a little uninspired. The band look tired, which could be the heat or could be just not wanting to do this anymore. Either way, it was a good fanservice farewell, but not special.
Best Moments: "Ocean Avenue" is still a guaranteed singalong, and violinist Sean Macklin still does backflips, even after recent treatment for thyroid cancer.
[separator style="line" /]
State Champs

– Journeys Right Foot Stage

One of the few modern pop-punk bands to really appeal to me, State Champs did an admirable job getting the crowd involved (and had the best sounding mix of the day, with every instrument crystal clear), but their live show loses a little of the nuance that attracted me to their recordings.

Best Moment: Everyone leaving halfway through the set to get a better spot for Good Charlotte and the band not only not mentioning it/complaining about it, but going even harder for the diminished crowd. Gotta respect that.
[separator style="line" /]
Good Charlotte

– Journeys Left Foot Stage
Arguably the biggest name on the festival (and on their last date), Good Charlotte returned from a hiatus recently and picked up right where they left off. Sure, it's been almost 15 years since The Anthem and Lifestyles Of The Rich And The Famous were on every radio station, but somehow the songs don't sound dated (although brand new song "Life Changes" already does, yikes). This was 30 minutes of it being 2006 again.
Best Moment: The triple-vocal threat on The River, with Atreyu drummer Brandon Saller joining the band to handle M. Shadows' part. It sounded better than the original.
[separator style="line" /]
Real Friends

– Journeys Right Foot Stage

Another newer pop-punk band, Real Friends owe more to emo and indie rock than hardcore like Neck Deep or State Champs, and it made them stand out as one of the few purely melodic bands on Warped Tour. The songwriting is part Jimmy Eat World and part The Starting Line, making them seem like a throwback themselves. The set dragged a little near the end due to the songs sounding very samey, but if you can catch Real Friends in a small club, they will dominate that stage.
Best Moment: "I Don't Love You Anymore" is the perfect summertime breakup song, equal parts miserable and demanding a singalong. More than any other song all day, that felt like Warped Tour to me.
Cane Hill

– Full Sail Stage

They may have been on the smallest stage, but Cane Hill were one of my most-anticipated bands, having just released the incredible album Smile. They ripped straight into their best new song, "True Love" (whose chorus is even more massive live) and never slowed down. The crowd may have been small (even fewer people than Capsize), tired, and sunburned, but some of the hardest individual moshing I witnessed all day was during their set. The mix was terrible (probably an issue all day at that stage) and the band's reliance on samples was readily apparent as a result, but the band and crowd alike were acting like they were the biggest attraction of the day. With any justice, soon they will be.

Best Moments: Standing next to the only other person who knew the lyrics to True Love and both losing our minds screaming along, headbanging hard enough my necklace flew off my head during "Gemini", having muscle soreness still two days later. This is a band you feel, and even a messy, low-turnout set with technical difficulties in 90+ degree weather didn't lessen that.
[separator style="line" /]
Sum 41

– Journeys Left Foot Stage

Embarrassing as it is, Sum 41's "Does This Look Infected?" was my first punk album, and I always have been and always will be a diehard Skumfuk, but this was my first chance to see the band live. I was also worried about how they would be after Deryck's recent health problems. I shouldn't have been. Wasting no time, the band came out to "The Hell Song" and immediately had the entire crowd singing along. Deryck Whibley didn't let his guitar confine him to one spot, frequently holding the mic with one hand and strumming open chords with the other while wandering around stage, posing and pointing and having a blast. The band steamrolled through some of the biggest hits with an energy befitting a brand new group, and were having visible fun doing it.

Best Moments: The moment "Underclass Hero" exploded from ballad to punk anthem, Dave Baksh's Maiden-inspired guitar solos, the crowd drowning out the band with a cheer when they played the opening chords of "Fat Lip."
[separator style="line" /]
From Ashes To New

– Monster Energy South Stage

A throwback mix of rap-rock with dashes of metalcore, From Ashes To New were definitely the most unusual band of the day. Their stage performance was good, but seemed out of place on Warped (although it would be warmly received on tour with, say, Papa Roach or Shinedown). The rapping seemed a little off-rhythm live, but clean and unclean vocalist Chris Musser was unstoppable, easily transitioning between bestial roars and angelic cleans, as well as a throaty, mid-range rock growl somewhere in between. Warped seems like the wrong tour for them, but I don't doubt they will continue to see more success.

Best Moment: Taking the stage like rock gods and openly daring the audience to hate them without coming across as rude or cocky. If attitude gets you places, this band is going to be big.
[separator style="line" /]
Atreyu

– Monster Energy North Stage

The last band I saw played a headliner-worthy set, but also the most intimate of the day. Unclean vocalist Alex Varkatzas spent more time along the barrier or in the crowd itself than he did on stage, frequently handing off the mic to people to sing along, and spending the entirety of closing track "Lip Gloss And Black" leading the crowd in a giant circle pit around the sound tent. Guitarists Dan Jacobs and Travis Miguel nimbly traded off blistering 80s style solos while Varkatzas and drummer Brandon Saller split vocal duties, with Saller hitting high notes as easily as on studio recordings. Atreyu were firing on all cylinders while still goofing off, and the mood was contagious.

Best Moments: "Right Side Of The Bed" sounded absolutely perfect, the sparse pummeling of "Do You Know Who You Are?" was surprisingly effective live for such a weird song, Alex Varkatsas' deltoid definition. I mean, DAMN, dude. I am officially jealous.
[separator style="line" /] There were a good 30-40 more bands worth catching, so no matter who you see, there will definitely be something good going on at any given time. Warped is still going strong for a reason.

Best performances: Sum 41, Coldrain, Atreyu
[separator style="line" /]

[separator style="line" /]