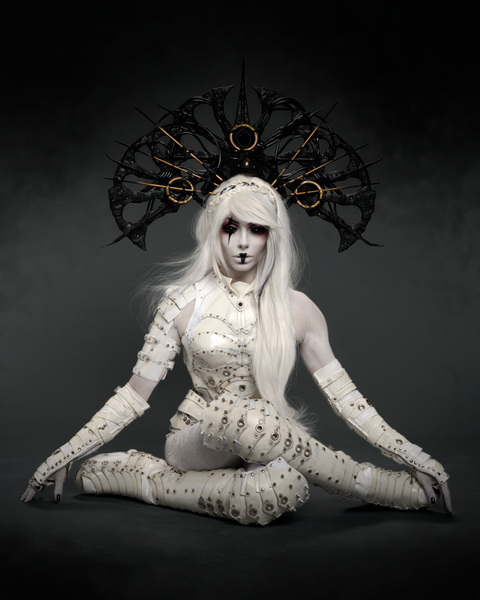 Dark Alternative, Hard Rock, Transmedia Project September Mourning have released their "Eye Of The Storm" lyric video
Eye of the Storm lyrically blends the purpose of September with an overall message to her Children of Fate: be strong in your battle to stand against any fears you might have in life knowing that you will never be left standing alone. – September (September Mourning)
Presented by TBoy Records and Mortem Media, "Eye Of The Storm" is the lead single from the band's upcoming debut EP "Volume I" (produced by Sahaj Ticotin and Howard Benson) and debut comic book "A Murder Of Reapers" which is available worldwide on September Mourning's official website through Top Cow Comics. "Eye Of The Storm" continues the story of September Mourning and is a follow up to the bands critically acclaimed single "Children Of Fate", which has received heavy airplay on Sirius XM Octane.
https://www.youtube.com/watch?v=QNFTiFMSglA&feature=youtu.be
September Mourning is currently playing a string of U.S. headline dates before joining Mushroomhead on October 3rd in Greencastle, Pennsylvania for "The Devils Be Damned Tour" and then playing this year's Aftershock Festival on October 24th in Sacramento, California.
September Mourning Tour Dates:
09/22 — Cincinnati, Ohio @ Legends
09/24 — Clarksville, Tennessee @The Warehouse
09/25 — Danville, Illinois @ Villains Con
09/27 — La Crosse, Wisconsin @ The Warehouse
09/29 — Chippewa Falls, Wisconsin @ Every Buddy's Bar
09/30 — Madison, Wisconsin @ The Red Zone
10/24 — Sacramento, California @ Aftershock Festival
10/31 — Spokane, Washington @ Knitting Factory Concert House

The Devils Be Damned Tour w/ Mushroomhead, Mortiis, Unsaid Fate, & Amerakin Overdose:
10/03 — Greencastle, Pennsylvania @ Journey for a Care
10/04 — Winston-Salem, North Carolina @ Ziggy's
10/05 — Wilmington, North Carolina @ Ziggy's By the Sea
10/06 — Cape Coral, Florida @ Dixie Roadhouse
10/07 — Jacksonville Beach, Florida @ Freebird Live
10/09 — Orlando, Florida @ Venue 578
10/10 — Fort Lauderdale, Florida @ Culture Room
10/11 — Destin, Florida @ Club LA
10/12 — Birmingham, Alabama @ Zydeco
10/13 — Odessa, Texas @ Club Patron
10/14 — Fort Worth, Texas @ Rail Club
10/15 — Austin, Texas @ Dirty Dog Bar
Follow September Mourning:
Official Website
Facebook | Twitter | YouTube | Instagram